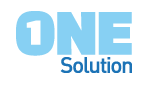 ONE Solution
ONE Solution is a complete email, address book, calendar and tasks solution that can be accessed from the web client, the desktop offline client, Outlook, and a variety of other standards-based email clients and mobile devices. You can deploy it as a software virtual appliance, commonly referred to as Zimbra appliance.
Key features of ONE Solution

Pixee.tv
The INDEX ONE service is focused on customers seeking medium or long-term archiving of their data. It enables them easy access and searching through the archive.
Show more