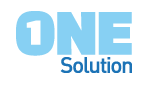 ONE Solution
ONE Solution is a complete email, address book, calendar and tasks solution that can be accessed from the web client, the desktop offline client, Outlook, and a variety of other standards-based email clients and mobile devices. You can deploy it as a software virtual appliance, commonly referred to as Zimbra appliance.
Key features of ONE Solution

BACKUP ONE
The BACKUP ONE service lets you backup your corporate data on the cloud and enables you to restore them in case of unintentional deletion or any damage.
Show more